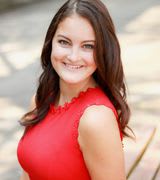 Meredith Rights
Tel:
717-340-9257

When You Know, You Know!
Meredith's passion for real estate started long before she entered the industry. With family friends in residential real estate sales, Meredith always knew this was the career for her. Meredith went on to earn her undergraduate and graduate degree in Business management at Michigan State University alongside her minor in entrepreneurship and innovation. After she graduated, she jumped right into the business with the Just Sold Philly team and has not looked back since.
Customer SERVICE
Meredith strives to provide the best possible customer service and support for her clients when helping people achieve their home ownership dreams. Meredith's clients describe her as detail-oriented, proactive, and fun to be around.
Meet Me In The Park
Meredith resides in the Fairmount area of Philadelphia. When she's not helping her clients, she enjoys exploring the numerous trails of Fairmount Park, restaurants in the area, and hidden art murals. She is a bit of an art junkie and loves that Philly has more murals than any other city in the world!